New Mexico Kindness (from the archive)
This story was first published on the original GoodNature Guide.
The wind chill was well below freezing as we pitched our tent in darkness in a comfortingly named place called Water Canyon not far from Magdelena, New Mexico. It was late November 2011 and the sun had been set for some time. The day had been spent exploring the Valles Caldera up near Los Alamos, hiking to Spence hot spring, and checking out Albuquerque.
Here we are at Valles Caldera with me looking like Hank Williams Jr. in the late 70s.
The previous night we stayed in a motel in Los Alamos and we were completely unprepared for a windy canyon with very little winter gear and Ben without a sleeping bag. Margaret, Ben and I had all decided it would be a great idea to head south for a winter road trip, somewhere warm and desert-like. Never mind the nearly 4,000 feet in altitude change we hadn't considered. IT WAS COLD. VERY COLD.
We couldn't keep a fire going because of the incessant wind but it was early still. We decided to head to town, to warm up at a cafe or bar. Back in Socorro we found a lovely diner: 'El Camino' with a cool dark stone walled and wood paneled  lounge 'El Matador' attached. We ate free nachos and had a couple High Lifes while playing Settlers of Catan in the dim bar. The bartender was very friendly and made us feel at home and soon it was late. Stopping at Wal-Mart, Ben found a cheap sleeping bag and we headed back to camp.
Coming up the dirt road to our camp site - we noticed something in our headlights - blowing across the road ahead of us - a dark mass. As we approached we realized that it was our tent, full of blankets and sleeping bags - poles askew and gliding across the road towards a ditch that led to the creek. Dumbfounded (we staked that sucker down) we hopped out of the car and drug it back up the hill to our site and weighed down the tent with our bodies as we tried to sleep through the frigid howling wind. No sleep. I doubt any of us got more than an hour or two.
Morning we were able to start a fire and get some breakfast and coffee made, but we made quick work of it and headed on the road to the Very Large Array which is an incredible grouping of giant radio antennas that are mapping the universe with radio signals!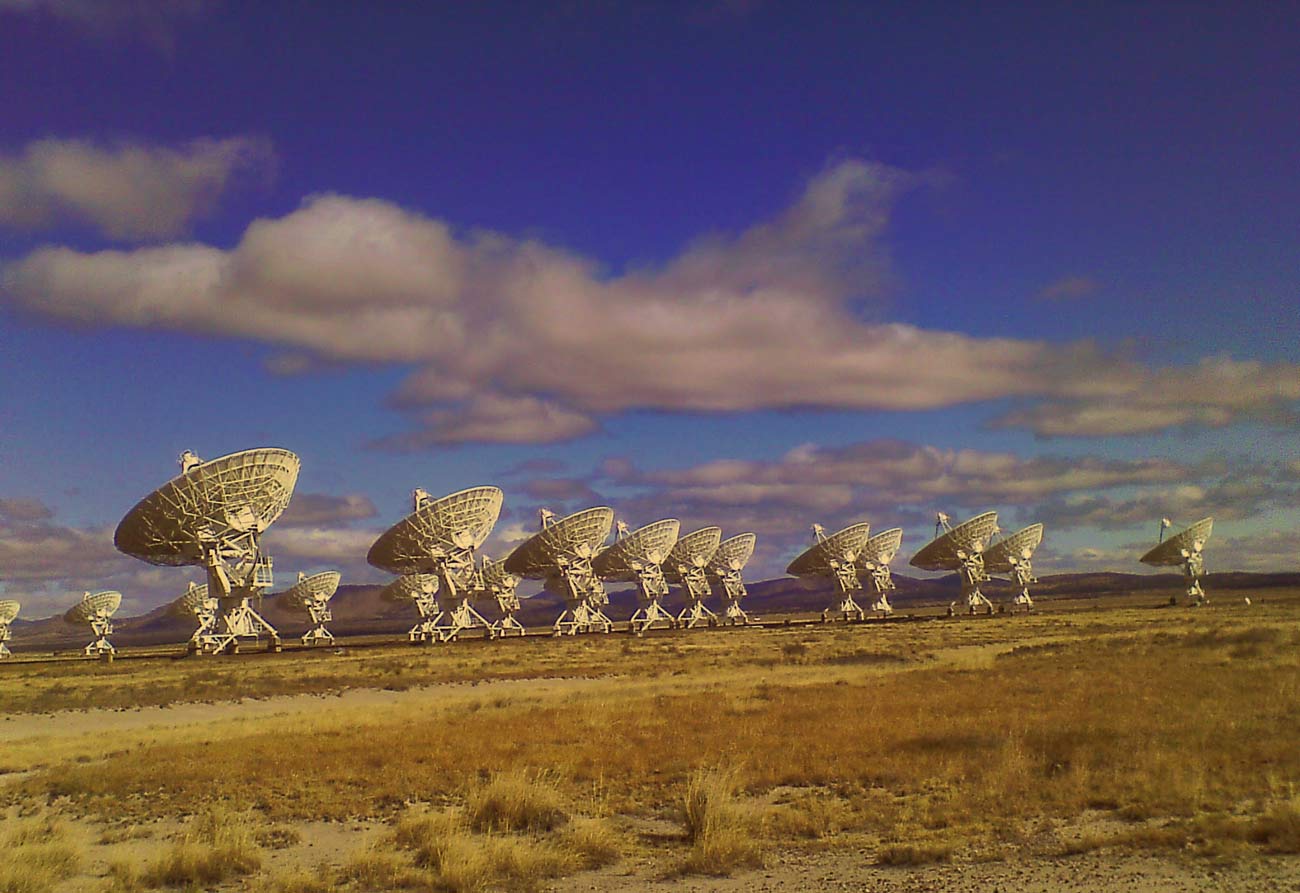 Here is a picture I took with a really good quality camera.
Soon enough we were back on the road and I had the great idea to take an 85 mile dirt road 'short cut' that would take us through the desert and back roads to Truth or Consequences, where we would be staying that night at a hot spring hotel. The road was amazing! The most desolate place I had probably ever been - not a building or town in sight the entire way save 2 ranch houses - an old graveyard on a hill that looked like a cowboy graveyard from an old movie - and lots and lots of sharp edged stones on the road as gravel. About 10 miles from Winston (near the end of our trip) we got a flat tire. A real deal honest to goodness shredded rubber kinda flat. The spare was flat too. We put it on anyway and we got maybe another ¼ mile before that flopped off the rim. We were done. No cell service, no maps of the area really - just a dirt road. We hadn't seen a car all day. We sat and sat and Ben threw rocks into the desert. We had one can of Old Style, some crackers and sardines.
Just when we decided it was time to try to take turns napping until someone came by, a semi came up from the way we were going.  I flagged it down and the driver told me he would be back this way in 30 minutes and he'd give me a ride. He took me down to Winston with the wheel in hand, giving me his number in case I absolutely needed it, as he was heading to TOC and would get off work at 6. (it was aorund 11).
In Winston I asked around the town of 60 people and after calling a bunch of towing services in TOC (they couldn't come out until the next day and it would cost hundreds) I was stuck in a place where I knew nobody and there were no services. I paced around the town with my wheel thinking about what to do and trying to work up the courage to actually ask help from a stranger. The lady at the general store told me a guy up the road might be able to help, and being after knocking on his door I was immediately chased by 2 rottweilers a half mile down the road all the way back to the store- I finally went into this trucking company, which was the only other business in town to ask the one guy working there if he was heading to TOC at all. He said yes, he would be heading down there soon and I could come with.
He dropped me off at Wal-Mart and I bought a new tire and wheel. It took about an hour and I asked around the store, with shoppers if anyone was headed back up to Winston. The people who knew where Winston was told me that nobody goes that direction and that it would be impossible to find a ride.
Wheel in hand I tried thumbing a ride by the parking lot exit hoping to find someone, but the day ticked by and the only people who stopped said they were going into town, not away.
Hours had gone by and I was worried about Margaret and Ben. There was no way to let them know I was OK  and that I was trying to get back to them. I could only imagine what they were feeling. It had been at least 6 hours since I left them. I reluctantly walked up to they pay phone and dialed Mark's number. He was not too thrilled to hear from me but he agreed to help us out. He came to Wal-Mart with his work buddy shortly after 6 and took me back up to the van. Along the ride the guys were drinking Budweiser and tossing them out the window and telling me they would be the ones picking them up later that week anyhow so it didn't matter. They still didn't offer me one, but I was beyond grateful for the ride. Along the ride I found out that Mark's wife was the real nice bartender who served us the night before in Socorro!
When we got to the van - Margaret and Ben couldn't believe their eyes - they hopped out of the van and I could see them waving in the headlights. Mark and his buddy not only took me back to the van but they insisted on putting the new wheel on. They wouldn't have it any other way so we let them, and before we knew it we were back in the van headed to town.
Here is a guy who went well out of his way to help complete strangers without any incentive. He didn't ask me what I believed in, he didn't talk politics or ask if I was a fan of the Broncos. He helped, no questions asked. The drive into Truth or Consequences was a valiant one. We all felt so tired and so amazed that we got out of our situation. The night was young really, and the River Bend Inn was the most relaxing place we could have ever imagined.
When I think about Mark, his wife at 'El Matador', the lady at the general store, and the man who worked at the trucking company - I think about how genuine they were and how unfocused they were on themselves, or money, or anything else other than just helping out a total stranger. They were the only people I ran into on my journey (aside from the shoppers at the Wal-Mart) and every one of them did as much as they could do to help. It is astonishing and lovely and restores my belief that people are good in their hearts.
Being completely vulnerable like that really pushed us to go with the flow, open up to strangers, and go past our anxieties and fear of asking for help. If I learned anything from this adventure, it's that perhaps my comfort and self-reliance in life really keeps me sheltered from the goodness of others, and that my assumptions about most people are probably way off base.
Until next time!